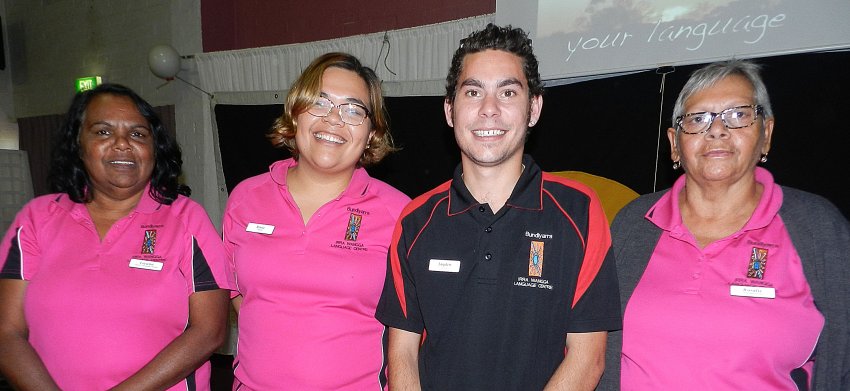 Bundiyarra - Irra Wangga Language Staff from left: Senior Language Worker Leeann Merritt, Linguist Rosie Sitorus, Coordinator Jayden Dann and Language Worker Rosalie Jones.
The Irra Wangga Language Program is a professional Aboriginal-directed program, working both with and for the community. Staff at Irra Wangga are passionate about the preservation, revitalisation and maintenance of Aboriginal languages and culture, and it is this passion that drives the program.
The Irra Wangga Language Program provides essential services for the languages of the
Midwest, Murchison and Gascoyne regions of Western Australia. As a major cultural program of the Bundiyarra Aboriginal Community Aboriginal Corporation (BACAC), the program aims to preserve and comprehensively document the languages of the region, in addition to engaging with language communities to aide efforts of language maintenance and revitalisation.
The main objectives of the Irra Wangga Language Program are as follows:
To document and preserve the seven languages targeted by Irra Wangga through:
Assembling an extensive collection of recordings (in natural speech, and in a variety of discourses, where possible);

Transcriptions made of audio recordings;

Phonological, morphological and grammatical analysis of linguistic material;

Establishment of electronic databases;

Production of morphologies and sketch grammars;

Production of dictionaries;

Production of full descriptive grammars (where possible);

Safe archiving of all linguistic material

To work towards the revitalisation and maintenance of the Aboriginal languages of the region.

To produce language materials and resources to promote the Aboriginal languages of the region, and to assist in the teaching of the languages in the community.

To deliver training and support to language teachers, language and cultural workers, AIEOs and those wishing to teach Aboriginal languages.

To promote a greater understanding of Aboriginal languages and culture in the community.

To build capacity to serve a growing demand for information on Aboriginal languages and culture from language communities, schools, other government an non-government services and the general public by producing more teaching resources and establishing a language resource library.
---
Services Available
Language Documentation
Irra Wangga works with the community to record the languages of the region, and use this collected information to produce dictionaries, grammars, books and other language materials.
Language Revitalisation
Irra Wangga works with schools, Aboriginal organisations, other local community organisations and members of the wider community, to assist in the teaching and promotion of Aboriginal languages.

Irra Wangga runs weekly Wajarri language classes, open to anyone in the community. See the language class section of the website for more information.
History and Culture
Culture is encapsulated within a language, and it is impossible to separate the two. Irra Wangga has worked with the community on several historical and cultural projects, including Footprints in the Sand, an oral history project collecting stories from members of the community.
Irra Wangga records (both in audio and video form) stories, songs, dancing and traditional activities with the local community. From this, educational material and books can be produced, such as Wajarri Wisdom, a book containing information on traditional Wajarri bush tucker and medicine.
Research and Employment
Irra Wangga welcomes research partnerships with linguistic students, universities and other linguistic and Indigenous organisations.
Irra Wangga also welcomes partnerships with students wishing to conduct voluntary work experience internships at the centre, or on languages of the Mid-West, Murchison and Gascoyne regions.
Please contact us at linguist1@irrawangga.org.au for more information.
Wajarri Language Classes
These courses are designed to develop speaking and listening skills, build vocabulary and develop practical competence of Wajarri, the most widely spoken Indigenous language of the Midwest region. This course is open to anyone interested in learning Wajarri, from absolute beginners to advanced learners.
Fee for Service
An important role of the language centre is to aide the teaching and education of Indigenous languages, as well as raising awareness of Aboriginal languages and culture in the community. Irra Wangga is available to provide training, workshops and classes about Indigenous languages to a wide audience of people. Some of the activities we regularly provide include:
Teacher training for Aboriginal language teachers and AIEOs

Language Awareness Workshops

Reading and Writing Aboriginal Languages Workshops

Language Classes

Translation and interpreting services for Mid-West languages (limited capacity)
Reference Group
Irra Wangga Cultural Language Reference Group, which has representatives from each of the seven language communities, provides advice to Irra Wangga staff and the Bundiyarra Board on the priorities of the language communities and acts as a representative voice for their respective language communities.